We are now Booking Summer Camps, VBS, Kid's Crusades and shows for your Spring, Summer and Fall Festivals. If you are planning an Upward Awards Night, Awana's Award Night or any other event, then call now to get the date you want.

For Family and Kid's Crusades,VBSs and Camps
Are you having a transition in your children's ministry? Do you want to give your children's workers a break, need special speakers, want to bring in professionals,don't have many volunteers or just want something different? Then Vertical Kids Ministry can be your answer for your VBS, Camps or summer outreach this year. We would love to come to your town to help you with your outreach to your community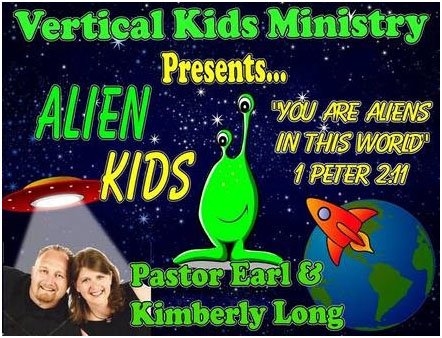 Ladies and Gentlemen and Children of all Ages! Vertical Kids Ministry Presents: Aliens Kids
Short DescrIn the Alien Kids program- Kids have always been curious about space and "life on other planets."  This theme capitalizes on that curiosity by comparing the life of a Christian with the life of an alien.

1 Peter 2:11 teaches us that we are "aliens in this world."  To live a life that is out of this world, we must be careful to "stay away from sinful things."  That includes guarding our hearts and minds from all of the sinful influences of the world. 

It is a fun learning experience with space backgrounds, space and alien decorations, lots of music, scripture learning, story time, fun magic tricks, juggling, balloon twisting, puppets and lots of audience participation.

We come in and provide you with a 3 – 5 night Crusade, Vacation Bible School, Kid's or Family Crusade, Kid's or Family Camp. Each night our teaching lasts about 1 ½ hours in length. For camps, we work with your schedules for day and night. Also, if you need to go longer than 5 days we are prepared for that also.

We provide the decorations, the back drop, the teaching, the entertainment, the games, the music and the Gospel Message!
Day 1 – Intro – Alien Kids
Scripture Address: 1 Peter 2:11
Key Message: Don't act, talk or be like the rest of the world

Day 2 – God's Power
Scripture Address: Acts 1:8
Key Message: God's Power gives me strength to be the best Alien I can be– The Holy Spirit

Day 3 – E.T. Phone Home
Scripture Address: Jeremiah 33:3
Key Message: Power of Prayer

Day 4 – I Come In Peace!
Scripture Address: Romans 12:18
Key Message: We need to be Peace Makers

Day 5 – Take Me To Your Leader
Scripture Address: John 3:16
Key Message: Witnessing, Sharing Your Faith

We are looking to book week-long VBSs, Family Crusades, Kid and Family Camps, Sunday services and more. (3, 4, or 5 day VBSs or Weekend events).

We will travel wherever you are located.
To see more pictures of Alien Kids go to Pictures
Check out the some of our Alien Kids Videos

Run Alien Run
Witnessing through the ages with balloon twisting
Alien Kids Message – As Aliens We are Different
Click Below to see Mike the Monkey in Action
Testimony from Brad Lewis – Pastor
Testimony from Steve Wood – Children's Pastor
Testimony From Marc Price – Children's Pastor