Vertical Kids Ministry Shows and Events Descriptions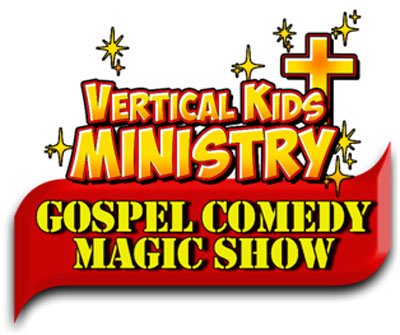 One-Hour or One and a Half Hour Comedy Ministry Show for Church Events
In the one-hour show, Earl and Kimberly have a variety of entertainment. The Gospel Comedy Magic Show is a professional stage show that includes comedy magic, Mike the Monkey, audience participation, music and other amazing elements that will keep your audience on the edge of their seats. Through the dazzling effects and fun, we share the Gospel of Jesus Christ and give an opportunity for your guests to respond to the gospel. This is a great way to reach out to your community and then be able to follow up with those who respond.
The entire show has non-stop action that keeps the audience on the edge of their seats waiting to see what comes next.

The one and a half hour show provides a few more exciting illusions& audience participation than the one-hour show. If you want to impact your audience to the fullest, then book the one and a half hour show.
One-Hour or One and a Half Hour Comedy Magic Show for Corporate Events, Banquets, Libraries, Schools, Day Cares or any other Party or Celebration.Block Title
In these shows, Earl and Kimberly include many of the above dazzling magic and illusions without sharing the Gospel. It is a fun clean family show that all ages love.

Vacation Bible Schools, Kids Crusades,
Family Crusades, Camps
Give your children's workers a break by booking Vertical Kids Ministry to come in and do the whole VBS or Kid's Crusade for you. This is an easy attendance booster and it saves you time that you could be spending with the kids. It saves you money from all of the books and craft kits you would have to buy and your teachers will love you for it.

We come in and provide you with a 3 – 5 night Crusade, Vacation Bible School, Kid's or Family Crusade or Kid's Camp. Each night our teaching lasts about 1 ½ hours in length. For camps we work with your schedules for day and night.

We provide the decorations, the backdrop, the teaching, the entertainment, the games, the music and the Gospel Message.

There are four programs we provide:
The Greatest Show Not On Earth – "The Wordless Book"
The Full Armor of God
Alien Kids – "We Are Aliens In This World"
Superhero Training Academy – "Power of the Holy Spirit Working Through Us"



The Greatest Show Not On Earth is a Circus themed program that will take the student into a fantastic world of imagination filled with animal puppets, clowns, Christian illusions, juggling, balloon twisting, costumes, games, stories, scripture verses, singing and The Wordless Book to share what heaven is like; where and when sin came into the world; God's promise of sending a Savior to forgive and take our sins away; the birth, death and resurrection of Jesus and how to grow in a relationship with Him. Each day of your event we will focus on a color from the Wordless Book. Each one of the colors tells a story. These colors in order are gold, black, red, white and green.

To see pictures of this event, go to Greatest Show Pictures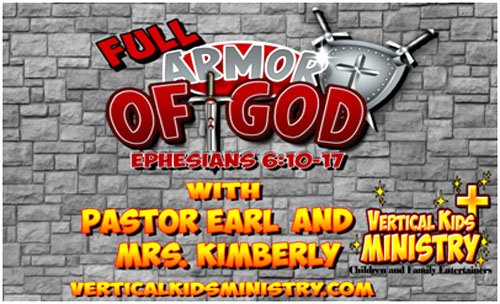 In the Full Armor Of God program, we use puppets, Christian illusions, juggling, balloon twisting, costumes, games, stories, scripture verses, and singing to show kids that there are spiritual battles in life that we have to be prepared for. Each day we will focus on Ephesians 6:10-17 where your students will encounter each piece of the Full Armor of God including the Belt of Truth, the Helmet of Salvation, the Shield of Faith, the Breast Plate of Righteousness, the Shoes of Peace and the Sword of the Spirit.
To see pictures of this event, go to Full Armor of God Pics

In the Alien Kids program- Kids have always been curious about space and "life on other planets." This theme capitalizes on that curiosity by comparing the life of a Christian with the life of an alien.

1 Peter 2:11 teaches us that we are "aliens in this world." To live a life that is out of this world, we must be careful to "stay away from sinful things." That includes guarding our hearts and minds from all of the sinful influences of the world.

It is a fun learning experience with space backgrounds, space and alien decorations, lots of music, scripture learning, story time, magic tricks, juggling, balloon twisting, puppets and lots of audience participation.

To see pictures of this event, go to Alien Kids Pics
"Superhero Training Academy – Finding The Superpower Within You."
"Superhero Training Academy – Finding The Superpower Within You." Through all of the fun with magic tricks, balloon twisting, juggling, skits, storytelling, costumes and puppets, we will look at God's power and help kids understand how they can allow the Holy Spirit to work in and through them. We will look at Superheroes of the Bible and see how God worked through them. They will learn 1 John 4:4 (CEV) which states, "Greater is He who is in us than he that is in the world."

To see pictures of this event, go to Superhero Pics
Other Shows We Offer
Christmas Show – "The Real Magical Meaning of Christmas"
The Christmas Show is a 1-hour full stage production show that features a delightful use of tubes, boxes, cards, ropes, colorful scarves and Christmas music to incorporate fun magical stories about Santa Claus, the North Pole, Rudolph The Red-Nosed Reindeer and Santa's Elves. A great family show where the kids and parents will be amazed when a drawing of Santa Claus comes to life and talks to everyone! As the show continues, using lots of audience participation and humor, we will find The Real Magical Meaning of Christmas as Earl shares the Gospel of Jesus Christ through the dazzling effects of magic and illusion.

The flourishing finish will find Earl magically making snowflakes appear in mid-air. The use of dazzling effects of magic and illusion will definitely get your audience in the spirit of Christmas. We come in with backdrops, Christmas decorations, magical props, music and lots of entertainment. It is truly a magical event.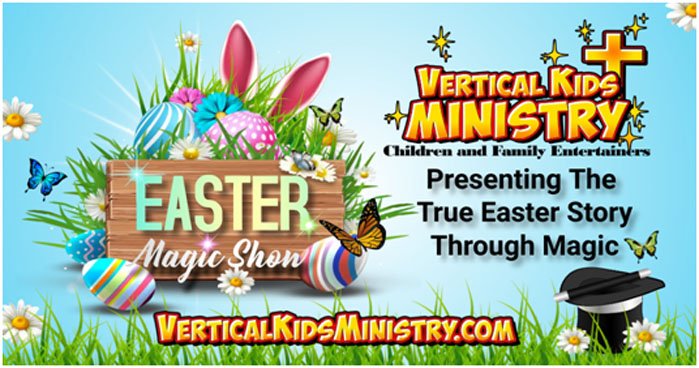 Filled with music, comedy magic, balloon twisting, audience participation and storytelling, Vertical Kids Ministry's One-hour Easter show will encourage and delight every audience member. In a fun and magical way, the kids will experience Palm Sunday, the Death, and Resurrection of Jesus Christ as they participate on stage in the many colorful magic tricks. Through the magic, balloon twisting and storytelling they will hear the true gospel of Jesus Christ and will have the opportunity to receive Him as their Savior.

This show is great for an Easter Egg Hunt Outreach, Sunday morning worship, Kid's Church, Awana program or any other weekday program. In addition, if you are in need of the Easter Bunny, we can provide that also!
Happy Birthday Jesus Party
SHappy Birthday Jesus Party is a magical party that celebrates Jesus' birth. This show incorporates a number of comedy magical effects, puppets and juggling. Watch as we magically make a birthday cake for Jesus in a party atmosphere. We will find out who can make it to the "Big Party" which is Heaven. As the show comes to the end, everyone will find out that not only are humans made uniquely but also snowflakes. The flourishing finish will find Earl magically making snowflakes appear in midair.

This show can be booked anytime during the year. It is very popular around Christmas time but don't be afraid to celebrate the birth of Jesus on any given Sunday.

Earl Long uses a variety of puppets performing silly antics, stories, funny jokes and cool magic tricks in this 30-45 minute show.

According to the season of the year, the kids could see an appearance by Mike the Monkey, Dusty the Dragon, Woofy the Sheep Dog, Jerry the Platypus, Bubba the Circus Bear, Frosty the Snowman, Eddie Rabbit, Dynamic Dash the Turtle or many more.
Easter Show – great for Easter Egg Hunt outreaches or a Sunday Kid's Church program.
Valentine's Party; Fourth of July Celebration; Homecoming; Awards Ceremonies; Awana, Upward Award Ceremonies, Retreats; Back to School or End of School Bash; Youth Group Parties or Outreaches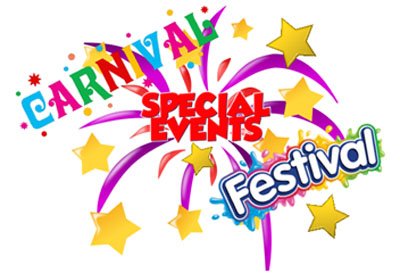 For a festival or carnival atmosphere, we can perform close-up magic, juggling, face painting, glitter tattoos, Big Bubble Fest Event, Foam Party and make balloon-twisting creations for your guests.

We can also bring along juggling items for your guests to try out and learn. These include juggling balls, rings, juggling flower sticks, Chinese yo-yos and plate spinning. Then, if you choose, we can perform a full stage entertainment show. For any carnival or festival ask us about our Big Bubble Play or our Foam Factory Foam Party fun.
Check out some pictures by clicking Festival pictures.