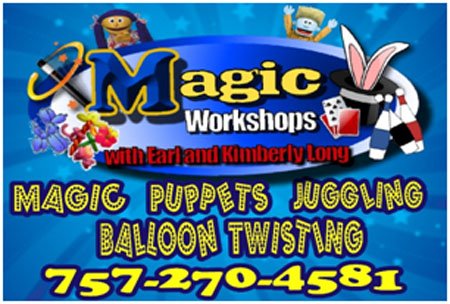 Five Hour Creative Ministry Training Workshop In Virginia Beach, VA
Have you ever wanted to take your youth group on a Mission Trip where they could share their faith without fear? Have you ever wanted to reach out to your community for Christ but don't know exactly how? We can show you how to put together a one-day or one-week outreach to kids or nursing homes by using Creative Ministry techniques. This five hour Creative Ministry Training includes basic puppet training, basic juggling, basic balloon twisting, and basic magic as well as a 30-minute show at the end that will show you how to tie all of the training together to share the Gospel.

Each participant receives a 25-page book of notes that we go through during the training. Then they get to take this home with them so they can continue their practicing.

A sample agenda for the day:
10:00 Basic Puppet Training / Practice (Everyone together)
11:00 Break
11:05 Basic Gospel Magic – Using magic to share the Gospel
or Basic Balloon Twisting – Hats and animals (split up)
11:55 Lunch
12:25 Basic Gospel Magic – Using magic to share the Gospel
or Basic Balloon Twisting – Hats and animals (split up)
1:15 Break
1:20 Juggling – Basics of scarf and 3-ball juggling (Everyone together)
1:55 Break
2:00 Performance to tie everything into a ministry outreach
2:30 The End

We also provide one-hour individual classes for each of these. You can choose from:
– Basic puppet training
– Basic juggling
– Basic balloon twisting
– Basic Gospel magic

Balloon creations are fun for ages 4 to 104! From simple balloon animals for children to elaborate, colorful balloon hats for all ages, Vertical Kids will make your event memorable. Colorful Balloons can Enhance Any
Special Event including:
– Grand Openings
– Birthday/Anniversary Parties
– Valentine's Day / St. Patrick's Day
– Mardi Gras/New Year's Eve
– Tent Sales/Sidewalk Sales
– Picnics/Bar-B-Q's
– Church events, Back 2 School Kick Offs
– Festivals, Carnivals, Block Parties and Fairs
Even the colors of the balloons can add more meaning to special events, from a child's favorite color for their special birthday hat to the color of their favorite sports team.

Balloons are loved by all!! Everyone feels special when given the gift of a colorful balloon creation…and that's what it's all about! The smiles, the memories and the magical feeling that balloons add to any special event!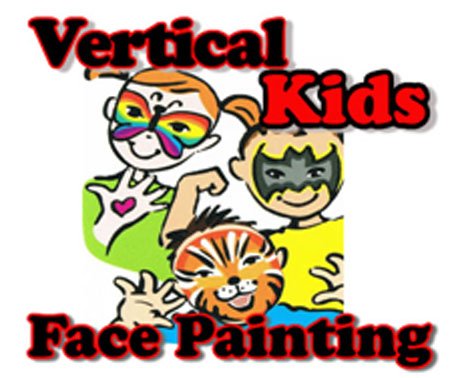 Enjoy great face painting ranging from simple to full-face designs. Hygiene and safety is one of our main priorities. We clean and sanitize our equipment before and after each event. By using FDA approved water-based face paints and having a clean workstation, our face painters keep your guests safe and happy. Our face paints are made from high quality cosmetic pigments.

Keep in mind – typically, 8-12 faces can be painted within an hour.
Fee – $125 for first hour – $50 for every half hour after that. A $50.00 deposit is required.

Glitter Tattoos
• 100% Toxic Free and safe for skin
• Lasts 3-7 days
• Waterproof
• To remove tattoos – use alcohol swabs or lotion
• Fee: For 1 hour (20 -25 Tattoos in an hour) – $125
• Additional hours – $100 each hour

Best Entertainers / Evangelists In Virginia Beach, VA